The fascias, soffits, and gutters connected to your home's roof do far more than simply give your home a finished look. They are also crucial in controlling the flow of water off of your roof and protecting your foundation from water damage.
At DMG Exteriors, we offer more than siding and roofing services. We also provide soffit, fascia, and gutter installation and repair in Indiana. DMG Exteriors is the home contractor you can trust for extraordinary service and great results every time.
With more than 10 years' experience as home contractors in Indiana, our team can provide custom solutions and superior service for any gutter, fascia, and soffit need. We're the team you can trust when you need a job done right, and we are never satisfied with the finished product until you are.
Are your gutters damaged or sagging? Are you searching for expert roofers who can repair or replace your fascia and soffits?
Gutter Services in Indiana
Gutters protect your roof and your home. So, it stands to reason that when you need gutter services, you want a professional who understands your needs and who can get the job done efficiently and properly.
At DMG Exteriors, our expert roofers have been providing top-quality gutter services for years. From new gutter and soffit installation to routine maintenance, we've done it all in Indiana! You can be confident that our experts will handle your gutter service with the utmost care and precision. You can also trust us to use only the highest quality gutters and materials to assure durability and resilience for years to come.
DMG Exteriors offers excellent financing options, making it easier than ever to take care of your home's gutters now!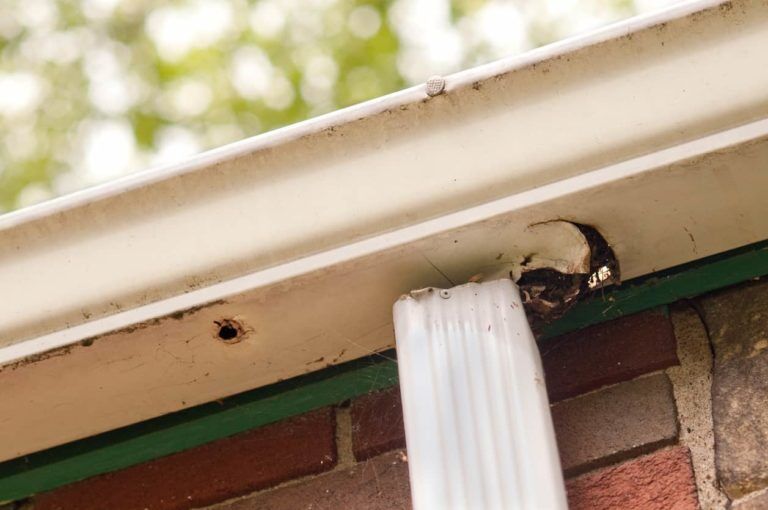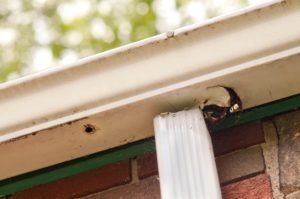 Gutter Replacement in Indiana
When gutters are correctly installed, they can last for decades. As they start to age, however, they can leave your roof and your home vulnerable to water damage. Aging gutters can also detract from your home's curb appeal.
Don't make a costly mistake, you can rely on our team for clear, honest answers and the best gutter services in Indiana.
How do I know when to get gutter and fascia repair? In general, we recommend gutter replacements when:
Gutters are rusting or corroding.
Gutters are sagging or pulling away from the fascia.
Water runs over or behind your gutters.
There are signs of water damage on your windows and siding—a common red flag that your gutters aren't doing their job.
Fascia Replacement in Indiana
The fascia of your roof is the vertical finishing edge that covers the rafters, extending beneath the roofline. In addition to adding a clean, finished look to your roof, the fascia supports your roof and its gutters. Whether you need to install, repair, or replace the fascias on your home, the team at DMG Exteriors has all of your fascia needs covered!

Residential Soffit Services
Soffits are roofing features that cover the roof overhang, from the edge of a home's exterior wall to the edge of the roof line. Like fascias, soffits serve both aesthetic and functional purposes. Aesthetically, they can enhance the overall look, style, and appeal of a home. Functionally, they are essential to keeping pests, weather, and debris out of your home while providing roof ventilation.
DMG Exteriors offers comprehensive gutter and soffit installation, repair, and replacement services. We are proud to be a one-stop shop for all of your roofing needs.
Soffit, Fascia & Gutter Services in Indiana
At DMG Exteriors, we are dedicated to providing homeowners across Indiana with experienced contractors and exceptional gutter, soffit, and fascia installation and repairs. No matter what your roofing needs may be, our experts will provide the right fix and top-quality service every time!